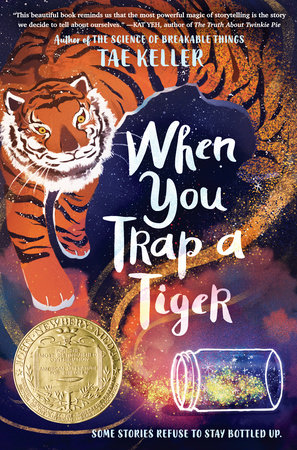 The Plot: Lily, her mom, and older sister are moving to live with their Korean grandmother Halmoni in a small town. Halmoni has always been eccentric, but lately her strangeness has developed into seeing hallucinations and not recognizing familiar faces – all signs of possible dementia. Whatever the cause, Lily has also begun seeing mystical things, specifically a tiger that visits her and demands to hear lost stories from Korea. As Halmoni's state of mind continues to slip, Lily finds herself engaging with the tiger to rediscover the stories in an effort to save her grandmother.
My Take: After watching the Youth Media Awards, I was eager to read this year's Newberry Medal winner. After finishing it, I can understand why the committee chose this book. Keller has deftly created a story about the intergenerational strength of women in the face of challenges from immigration, grief, and a country victimized by war. The core theme is a family dealing with the consequences of being second generation immigrants and sorting out what traditions they want to preserve from their home country. Lily is an interesting character because she is the inheritor of her grandmother's legacy and love of Korean culture – an inheritance from which her mom and older sister have turned away. This tension between the 4 females is what drives the story forward. I highly recommend this novel to those looking for a read about resilient women and the power of storytelling.
One Interesting Note About The Author: To write When You Trap A Tiger, Keller drew from the experiences of her own childhood when she listened to her halmoni tell her stories about ghosts and tigers at bedtime.